SPECIAL NOTICES
Due to the COVID-19 situation the 2020 Village Elections have been postponed until further notice.
The Village will be holding our annual Budget meeting on Wednesday April 8, 2020 @ 6:00 pm online via Zoom, please see meeting notice and information below;
The URL is – https://us04web.zoom.us/j/343309596
The meeting ID is – 343-309-596
VILLAGE BOARD OF TRUSTEES
Meets the first Wednesday of each month, 6 p.m. at the Elba Village Office. The year end meeting in June will be held the last Wednesday of May each year.
Mayor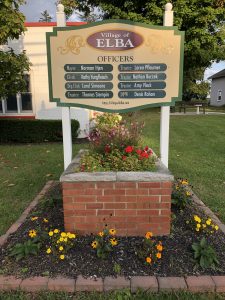 Norman Itjen
Trustees
Amy Vlack
Loren Pflaumer
Nathan Buczek
Tom Stempin
Clerk/Treasurer
Kathy Yungfleish
Deputy Clerk
Carole Simone
Department of Public Works
Denis Rohan – Maintenance
Village of Albion – Sewer and Water Maintenance
Village Meeting Minutes
Village Water Code
Village Zoning Law