Village Budget Public Meeting
Please be advised that the Board of Trustees of the Village of Elba will hold a public hearing on Wednesday April 14th 2021, to hear comments relating to the tentative 2021-2022 budget as proposed by the Board of Trustees. This hearing will be held at 6:30pm in the Village Office at 4 South Main St, Elba NY. The compensation proposed in said budget for the Mayor is $3400 and $1750 per year for each Trustee. A copy of the Village of Elba tentative budget is available at the Village Office. All persons wishing to be heard on the question of the adoption of the tentative budget will be provided an opportunity as time permits. Masks required.
Dated April 5, 2021 Jerah Augello Clerk- Treasure
VILLAGE BOARD OF TRUSTEES
Meets the first Wednesday of each month, 6 p.m. at the Elba Village Office.  The year end meeting in June will be held the last Wednesday of May each year.
Mayor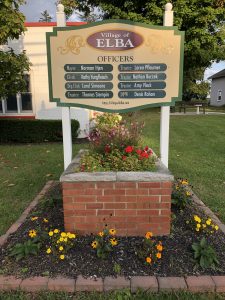 Norman Itjen
Trustees
Vern Howard
Loren Pflaumer
Nathan Buczek
Tom Stempin
Clerk-Treasurer
Jerah Augello
Deputy Clerk
Carol Simeone
Department of Public Works
Denis Rohan – Maintenance
Village of Albion – Sewer and Water Maintenance
Village Meeting Minutes
Village Water Code
Village Zoning Law
General Village Information